The Bosch Universal plastic bowl is an all-purpose bowl for the Universal mixer. You can knead dough, whip egg whites or make your favorite cookie dough. This bowl can use a dough hook, French whisks, batter whisks or cookie paddles. This bowl has been described as donut-shaped or Bundt shaped because of its center post. That center post houses the drive shaft for the attachments and is topped with the spur gear that runs the whisks and cookie paddles.
First Generation
The first generation of Bosch Universal plastic bowl will hold 5.5 quarts or 12 pounds of dough, and has three splash-ring locking pins on the outside edge of the bowl. The splash-ring is plastic and fits down over the top edge of the bowl.
I have narrowed the release date of this bowl to sometime between 1961 and 1970. I believe it ended its production run in 1984 when Bosch redesigned the Universal mixer.
Second Generation – MUZ6KR4
This second-generation plastic bowl, Model Number MUZ6KR4,  moved the splash-ring locking pins to the inside of the bowl. The splash-ring now sits inside the bowl, preventing anything from making it's way down the outside of the bowl as could occasionally happen when the first-generation bowl was filled to capacity. This bowl maintains the same 5.5 quart and 12 pound dough capacities as the first generation plastic bowl. All attachments are interchangeable with the first-gen bowl.
I believe this bowl to have been released with the 1984 Universal redesign. It is still in production today.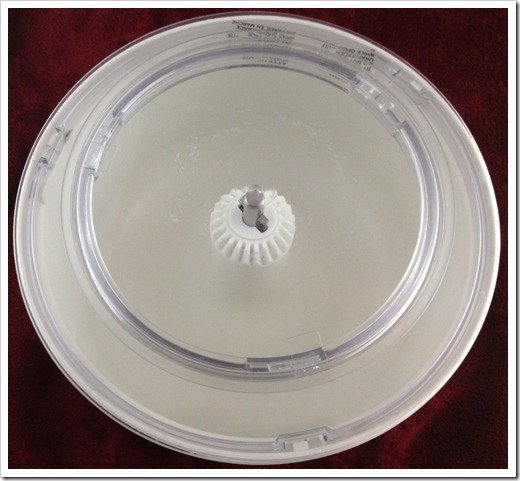 Third Generation – MUZ6KR4NUC
Released in 2007 with the Universal Plus mixer, Bosch upped the capacity of this all-purpose bowl to 6.5 quarts or 16 pounds of dough. This bowl also has a redesigned cover and splash-ring. The cover has a higher dome than the previous bowls and the splash-ring mounts to the bowl using 4 locking-pins. This bowl also has a removable driveshaft that allows for easier access to the center post for easier clean-up. I've seen this bowl listed as the MUZ6KR4NUC and the MUZ6KR4UC without any explanation of any differences between the two model numbers.