What is better than chocolate? More chocolate. Lots more chocolate. Did I mention something about chocolate?
I originally found this recipe at Annie's Eats and I just Had. To. Try. It. Out. Almost two pounds of chocolate? Who could say, "no" to that?
It has a chocolate-brownie base. Then there is a layer of chocolate mousse. Then a chocolate cake layer. The entire thing is then covered in chocolate ganache and decorated as you see fit.

Ingredients gathered and ready. Softened butter and warm eggs.

The Brownie
Brownie Ingredients:
1/2 cup plus 2 T cake flour
1/4 t salt
1/2 t baking powder
3 oz. unsweetened chocolate
6 T unsalted butter
1 T dark rum (because Julia did it)
1 1/8 cups sugar
2 large eggs
2 t vanilla extract
Preheat your oven to 325 degrees.
Prepare a straight-sided 9 x 2 inch round cake pan. You can line the bottom with parchment if you like, while buttering the sides. Or you can cheat and spray the entire thing with one of those flour-containing baking sprays like Baker's Joy.
Mix together the dry ingredients and set aside (remember, in baking, sugar is almost always considered a wet ingredient). Melt the butter and chocolate together with the rum. (You can use a double boiler or microwave – if using a microwave, only heat the chocolate for short times, stirring frequently until smooth.)
When the chocolate is completely smooth, stir in the sugar. Then stir in eggs, one at a time, mixing well after each. When the eggs are thoroughly combined, mix in the vanilla extract.
Fold in the flour mixture until no white bits of flour remain.
Transfer batter to prepared pan and bake for 25-30 minutes, until a toothpick inserted in the center comes out clean. (You can set the pan aside at this point and prepare the cake layer and bake them at the same time if you like.)
Butter and chocolate getting ready to be nuked:

Fold in the flour:

Don't leave any bits of flour in your batter:

The brownie batter ready to go into the oven … please ignore those bits of flour, thank you:

The finished brownie base waiting for assembly!

The Cake
Cake Ingredients:
2 oz. unsweetened chocolate, coarsely chopped
1/8 cup Dutch-processed cocoa
1/4 cup hot water
7/8 cup sugar, divided
7/8 cups unbleached all-purpose flour
3/4 t baking soda
1/2 t salt
1/2 cup buttermilk
1 t vanilla extract
2 large eggs
1 large egg yolk
6 T unsalted butter, soft
Melt chocolate together with the cocoa powder, stirring until smooth. Add 1/4 cup of the sugar, stirring to combine. Set aside to cool.
Combine flour, baking soda and salt.
Combine buttermilk and vanilla.
Beat eggs together until combined, increase speed and add sugar. Using the whisk attachment beat until fluffy and light in color – about 3 full minutes.
Using the paddle attachment, add the chocolate mixture, mixing well. Beat in the softened butter one tablespoon at a time, mixing about 10 seconds between each addition.
Starting with the flour, alternate adding buttermilk and flour, ending with flour. Mix about 20 seconds, to make sure everything is combined.
Pour into pan and smooth batter.
Bake for 30 minutes, or until done.
Water, chocolate and cocoa powder.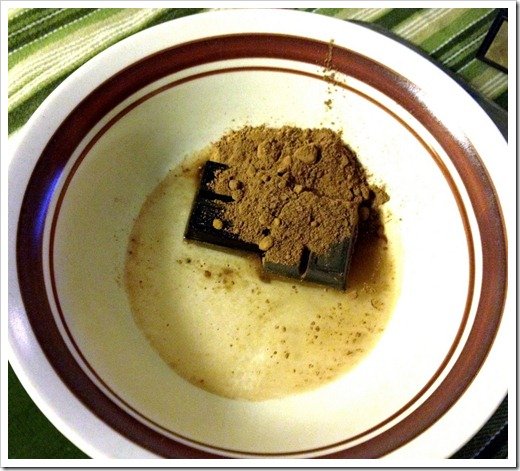 The melted chocolate – cocoa powder mixture:

Eggs:

Beaten eggs with sugar:

The sugar beaten in:

Adding the chocolate:

The chocolate mixed in:

Whipping the chocolate:

The whipped chocolate mixture:

Alternating the flour …

And the milk …

My pan is only 1.5" high, so I added a parchment paper collar:
The batter ready for baking:

The baked cake layer, collar removed, ready to be removed from the pan:

The cake layer cooling:

The chocolate mousse
Mousse ingredients:
6 oz. semi-sweet chocolate, broken into 1/2-oz. pieces
1 7/8 cups heavy cream
1 tbsp. sugar
Melt chocolate and cool.
Whip cream and sugar together in a chilled mixer bowl, until stiff peaks form.
Fold the whipped cream into the chocolate in three additions.
The completed chocolate mousse:
The ganache
Ganache Ingredients:
1 1/2 cups heavy cream
2 tbsp. unsalted butter
18 oz. semisweet chocolate, broken into 1/2-oz. pieces
Heat the heavy cream to boiling. Pour over the chocolate and butter and stir until smooth.
Chocolate and butter ready for melting:
Heated cream:

The completed ganache … silky smooth goodness:

The assembly
To assemble:
Top the brownie with the chocolate mousse. Top with the cake layer and press firmly to level.
Use the mousse that will ooze out between the brownie and cake to skim coat the brownie and cake layers. Refrigerate until the mousse has firmed up, making the ganache at this time.
Pour the ganache over the chilled cake, spreading with an off-set spatula to smooth. Decorate as you desire.
A thick layer of mousse on the brownie layer:
The completed layers:

I gave the whole cake a skim-coat of mousse and then refrigerated it to set up a bit:
The completed cake, with ganache shells and rosettes, with a ring of mini chocolate chips: