Berries, butter and lemon . . .
Back around Thanksgiving, I made this cake and fell in love. It starts out moist and continues to marinate over the next couple days until it is absolutely decadent.
This time 'round I'm trying it with orange instead of lemon.
I imagine a blueberry-lemon combo would be great as well. You could get away with any berry combined with your favorite citrus.
For Cake:
1½ cups all purpose flour
1 tsp baking powder
¼ tsp baking soda
½ tsp salt
¼ cup sour cream
2 tbsp finely grated lemon zest
¼ cup fresh lemon juice
1 tsp vanilla
1 cup butter, softened
1¼ cup sugar
4 eggs, room temperature
1½ cups fresh cranberries
For Glaze:
¼ cup fresh lemon juice
1 cup confectioners' sugar, sifted
To prepare cake:
Preheat the oven to 325 degrees F.
Spray a 9×5-inch loaf pan (note, the pan I used is actually a hotel or steam table pan that is slightly larger than my 9×5 inch loaf pan…my standard 9×5 inch loaf pan is too small for this recipe and resulted in me having to clean the oven), or line with parchment paper.
In a medium sized bowl, whisk together flour, baking powder, baking soda and salt. Set aside. In a separate bowl, whisk together sour cream, zest, juice, and vanilla. Set aside.
In the large bowl of a standing mixer, beat butter and sugar on medium-high speed until light and fluffy, about 3 minutes. I used the BeaterBlade for my Kitchen Aid Mixer. It nearly eliminates scraping of the bowl.
Beat in eggs, one at a time, until fully incorporated.
Reduce mixer speed and alternatively beat in ⅓ of flour mixture, followed by ½ of sour cream mixture, and repeat, ending with the last ⅓ of the flour mixture. Be sure to pause the mixer occasionally to scrape down sides of the bowl. Use a spatula to gently fold in cranberries.
Spoon batter into prepared loaf pan and bake 60 minutes, until top springs back when lightly pressed or a toothpick inserted in the center comes out clean. Cool 5 minutes in pan, then transfer to a stainless cooling rack.
Cool completely before icing.
To prepare glaze:
To make glaze, whisk together lemon juice and confectioners' sugar until there are no lumps.
Final assembly:
Drizzle over cooled cake.
Softened butter ready to be beaten into submission by a BeaterBlade

Butter after just having the sugar mixed in

Butter and sugar after having been creamed together for 3 full minutes

The completed batter, waiting for the cranberries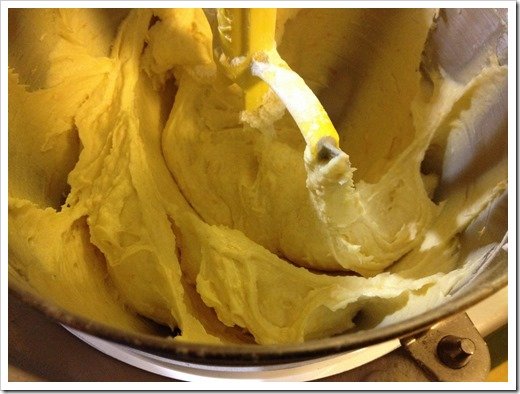 The cranberry cake waiting for the oven